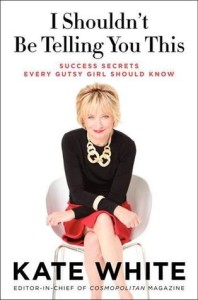 I just finished reading (finally!) I Shouldn't Be Telling You This by Kate White. After her Office Hours with the Levo League in December, I immediately ordered a copy and dove in… the last 1/8th of the book took quite a bit longer. In short, the book is a series of tips and life advice on having a successful career. Kate White writes with anecdotes and humor, making the book fun and easy to read, while being extremely helpful.
Success: How to Get It
Obviously, this is the section where my career lies as a young Gen Y woman. The biggest take away from this section is the go-big-or-go-home strategy. "The key is to do more than what's expected, power it up, go balls to the wall" (6). Besides for the fact that the quote brings an awesome picture to mind of going all out, I have come back to this phrase on multiple occasions in the past few months. We, as women, need to toot our own horns in order to be noticed, and by pushing ourselves to go-big-or-go-home in all situations, we ensure this. I hope to constantly push the limits of my job and what I'm able to accomplish by keeping this phrase in mind and using it to evaluate decisions and options.
The rest of the section provided a great foundation for my career with tips on finding a job, nailing an interview, how to dress and what it says about you, managing a boss, learning to teach and listen to your gut, and standing up and asking for what you want. It was an overview of career basics that no one teaches anywhere and everyone's supposed to know. Thankfully, I have this book and can hopefully avoid some of these common pitfalls. Although I'm sure I'll make plenty more!
Success: How to Go Big with It
Part II of the book focuses on taking your career to the next level after you're established. Kate White outlines some tips for managing people, coming up with and executing brilliant ideas regularly, and ways to be even more confident with what you're doing. Most of the tips also tie into a theme of keeping perspective on the big picture career path versus the specific job you're in currently.
Kate White shares in this section some of the best work advice she's been given: "Drain the swamp as you slay the alligators," which supposedly comes from an old southern expression: "When you're up to your ass in gnats and alligators, it's easy to forget that the initial objective was to drain the swamp" (211). Wow, what a picture! And brilliant advice! Basically, it means don't forget about your big picture goals and if you don't plan/book time each week to work on them, you'll be swallowed up by daily tasks that don't necessarily help. This is definitely advice that can be applied to any career stage. I suppose I'm still young and idealistic enough to remember big picture goals, but I can see how easily it can get away from me. If I start "booking" time now to dream and focus on them, it will become a habit and continue in later stages of life.
Success: How to Savor It
This last section talks about success and how to enjoy it when it comes, "to make certain that any success I achieved enhanced my enjoyment of life rather than undermined it" (270). White talks about some larger picture issues like setting boundaries, time-management, maternity leave, ways to simplify certain things and back pocket dreams.
I'm inspired by Kate White after having and raising two kids, being editor-in-chief of five magazines, and she still pursued what she calls her "back pocket dream" of writing novels and is a New York Times bestselling author. Wow, that's one accomplished lady! She outlines how she accomplished it all to inspire other women to do the same. It is doable. She talks about the discipline it takes to sit down and start, even if it's only a little bit at a time, but don't let the dream die. Another key takeaway for me was that you can still have dreams that aren't related to your "day job," and be successful with both. It's very freeing to know that my career doesn't have to be my only passion. (Yes, here's the idealistic Gen Y desire of having a career that I can be passionate about – but I do think it's possible! At least I admit it, right?)